North West Primary Languages Conference 29.06.17
May 20, 2017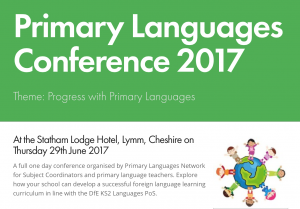 I am very pleased to have been asked to speak at the North West Primary Languages Conference in Warrington in June. This is the annual conference run by Janet Lloyd's Primary Languages Network and this year the theme is Progress with Primary Languages.
The keynotes will focus on the identifying progress, phonics, using technology and the wonders of primary language learning, and there will also be sessions on singing and dancing, speaking and listening and reading and writing as well as an exhibition.
I'm excited to be sharing 'keynote' duties with Sue Cave, Daniel Alliot and Therese Comfort, and I'm looking forward to the 'Spotlight' sessions too which I believe will share some of excellent practice from the PLN teachers.
You can find out more and register for the event on the Primary Languages Network site  and there's an online Flyer too. See you there!