Lee con Gloria Fuertes
May 20, 2017
Another post about books I bought in Bilbao.
I've long been a fan of Gloria Fuertes, in particular her poem Doña Pito Piturra which I've written about before and so has Erzsi Culshaw.
The National Curriculum Language programme requires learners to:
discover and develop an appreciation of a range of writing in the language studied
and the KS2 section specifically states that pupils should be taught to:
explore the patterns and sounds of language through songs and rhymes and link the spelling, sound and meaning of words
appreciate stories, songs, poems and rhymes in the language
I'm trying to include more whole class poems that we read and recite together in light of this and also as a way of supporting the English curriculum which requires learners to recite poetry.
So when I saw a series of books called Lee con Gloria Fuertes I decided to purchase a couple. It was hard to decide which to choose but I settled for one on nature and one on weather.
Below are my favourite poems from the books. The first is a list of wishes entitled Todos contra la contaminación which fits well with the eco focus at both my schools and would work well as a reading/drawing activity with learners choosing a line or two to illustrate. The second poem is called Gatos constipados and is about two poorly cats who get thrown out for coughing too much!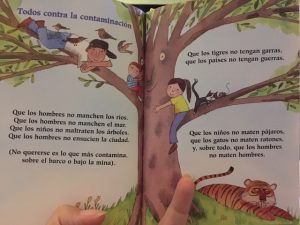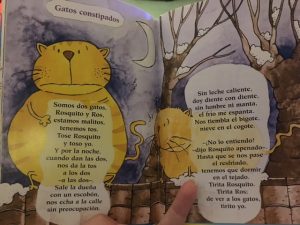 There are lots more books in the series so I may well purchase more in the future.
You can find more poems specifically for children by Gloria Fuertes here and others here. In this post there are a number of downloads of her poems along with links to other Gloria Fuertes poems including here (poems about time) and here (poems about professions). You can find a PDF of more of her work here plus here which also has a reading guide.