#pracped16 – Sketchnoting for beginners
November 6, 2016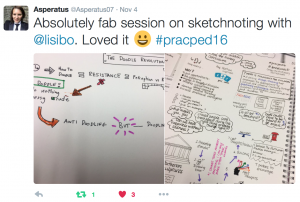 As I said in my previous post, I've just come back from the Practical Pedagogies conference in Toulouse. Last year I attended the inaugural #pracped conference and presented about Using technology to enhance primary language teaching and learning  As you can see from this post which charts my impressions, I vowed I wanted to attend the next one. And that post also explains what I was asked to speak on this time.
I have, over the last 18 months, discovered sketch noting or visual note taking to be an excellent tool. I sketch noted last year's conference and several people commented that i should do a workshop on it. So I did!
Below is my presentation. You can't read the notes so I've added some below that.
I'd also like to highlight certain things:
Brad Ovenell-Carter says "Sketchnotes are intelligent note-taking. The note-taking process is normally passive. But with sketchnotes, you don't write anything down until your thoughts are there. It's already digested." https://plus.google.com/communities/115990332552316650304 
"When you draw an object, the mind becomes deeply, intensely attentive," says the designer Milton Glaser, an author of a 2008 monograph titled Drawing Is Thinking. "And it's that act of attention that allows you to really grasp something, to become fully conscious of it."
Arguably, making graphic marks predates verbal language, so whether as a simple doodle or a more deliberate free-hand drawing, the act is essential to expressing spontaneous concepts and emotions.
What's more, according to a study published in the Journal of Applied Cognitive Psychology, doodlers find it easier to recall dull information (even 29 percent more) than non-doodlers, because the latter are more likely to daydream.