More IKEA inspiration!
February 7, 2016
I had to go to IKEA to buy a chair for my son and, as well as the obligatory meatballs and scented candles, I always end up buying something to use in the classroom. I now own every puppet that IKEA has produced and a large number of their cuddly toys not to mention various storage solutions (boxes and pop up tubs) and stationary items. So what could I possibly discover this time?
Flowers 
Postcards
An insect hat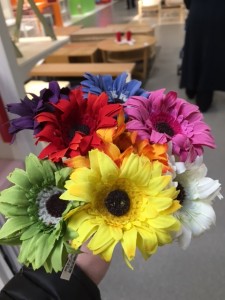 I bought a bunch of artificial Gerbera daisies (my favourites) to use in teaching colours to Y3. No brown, grey or black but every other colour I need. They'll make a change from flashcards 😉
I have a set of 5 Tolsby frames as each of my schools have five tables of 6 pupils in each class. I use them for instructions when we have a carousel activity but thought that these postcards would be good to give them Spanish specific table names. The fruit and vegetable ones will be great with year3/4 as we look at fruit words in both year groups, and the animals for year 4/5.  The animal ones in particular will be good for phonics too – conejo, pájaro, zorro, ardilla, reno (or is it a ciervo?) I'll put the words for the fruits over the English word for the fruit ones I think.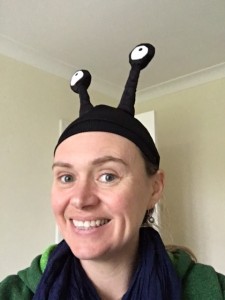 And then there's this hat. Would go well with work on mini beasts or describing animals (as we are currently doing in year 5) or just as a prop to go with the moustache and beard I bought last time I went. I was very tempted by the bat cape but restrained myself. This time…
No doubt I'll have to visit IKEA again soon so watch out for more ideas. I'm already planning a lesson involving scented candles 😉