El pequeño petirrojo (2.0)
December 11, 2014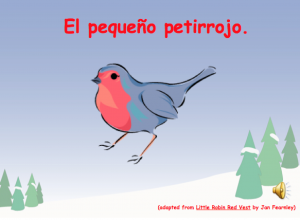 It's nearly Christmas again so out comes my favourite story – El Pequeño Petirrojo.
Checking back, my previous posts have lost all the links/content so it's worth sharing again I think. Added to that, this year there are new ideas and added fun!
El Pequeño Petirrojo is the Spanish translation of Little Robin Red Vest by Jan Fearnley (read here by Emilia Fox) I first discovered it whilst watching The Tweenies with my boys and then on a Spanish Tweenies video La Nochebuena that my parents bought me back from Spain in 2004(ish) In this particular episode, Santi Claws, as Jake calls him, picks up the Tweenies from their houses on Christmas Eve and takes them to the North Pole where he tells them the story.
It's the story of a little robin who washes and irons his seven warm vests the week before Christmas. Each day he puts on a different coloured one and goes out into the cold, only to meet another animal who complains of being cold. And each day, he gives away his vest to the other animal, until he is left on Christmas Eve with no vests left, cold and alone! The story ends happily though as Father Christmas comes along and takes the robin to the North Pole where Mother Christmas knits him a very special red vest that will always keep warm.
I immediately saw the potential of this story in my classroom. I taught Kindergarten to Year 6 at the time and could see how it could be used with all these age groups. Initially, I downloaded clipart pictures of the animals and made flashcards, then drew different coloured vests. I laminated them all and told the story with these, moving the vests from robin to rabbit, mole, frog etc. It's a great story as you can count the vests over and over, discuss the colour of the next vest and guess the next animal. It's good for repetition – the refrain 'Tengo frío' is soon taken up by even the youngest children, who also like to join in with Gracias (good manners!) and it encourages concentration and memorisation as the children try to recall what happens next. And there's the 'moral' element too – the robin showed the true spirit of Christmas by giving selflessly to help others, and was rewarded with his very special red vest.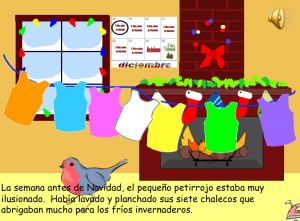 A few years after I started telling the story, I made a Powerpoint with animations and sound files. I was helped at the time by the lovely Bev Evans who shared one of her many talents by making me the coloured vests clipart. She sadly died this year so this Christmas it was particularly poignant as I opened the file and started telling the story.
I began collecting the animals that are in the story a few years ago but never got a full set, and they were merely props; I still relied on my trusty laminated vest and animal flashcards. I had a two year break from using the story whilst in Switzerland and last year still didn't have a full set of animals.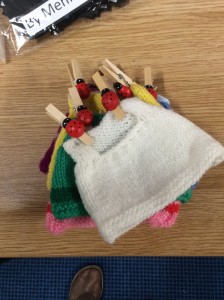 Years ago, Jackie Berry, a fellow primary language teacher from 'down south', made me very jealous when she shared pictures of a little knitted robin and vests that someone had made her. And this year, Jackie moved to France and decided to sell her primary resource collection. I was more than happy to give a new home to the vests and robin. In fact, I was ecstatic. And, spurred on by now having vests, I completed my animal collection.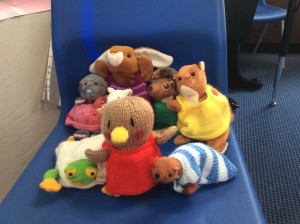 Additionally I recently purchased some PE bibs with mesh pockets into which you can put cards.
So this year we moved on to El Pequeño Petirrojo 2.0!
In one classroom the projector was broken so I couldn't show the presentation so went straight for the trusty flashcards and laminated vests to present the story. In the other class, I started with the presentation.
The second 'reading' of the story involved 10 children acting it out as I read the story and the class joined in with the repeated parts. Each actor (7 animals, the robin and Father and Mother Christmas) had a bib with their character card in the pocket. Additionally all the animals had a cuddly version of themself to hold, whilst the 'pequeño petirrojo (PP)' had his vests and Mamá Noel had a red vest which they both promptly put in their bib pocket too.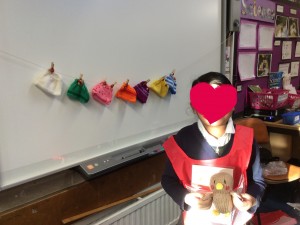 We put a washing line across the IWB and pegged up the vests as the class counted them, and then each day, PP removed the appropriate vest and put it on the knitted robin. The PP then skipped across the classroom as everyone chorused 'La la la la la', meeting an animal on the way. They greeted each other before the animal said ¡Tengo frío!, a refrain that was chorused by the class as well. Some recalled ¿Me puede ayudar? as well. PP replied ¡Aquí tiene! whilst removing the vest from the knitted robin and handing it to the animal. The animal responded ¡Gracias¡ and put it on their cuddly. Again, the class joined in with the repeated sections.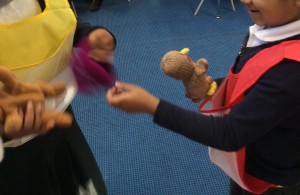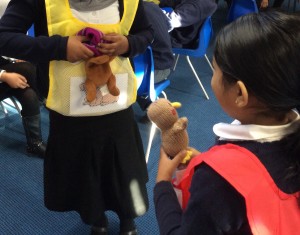 This pattern continued until Nochebuena when PP finds him/herself without a vest and cold. Great acting from my PPs who looked suitably glum and then brightened up as Papá Noel 'flew in' on his sleigh; one Papá Noel started humming Jingle Bells which was a great touch! They 'flew off' to the North Pole where Mamá Noel produced the red vest from her bib pocket and presented it to PP who said ¡Gracias!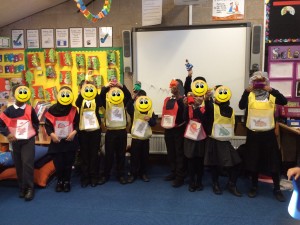 Everyone really enjoyed it and all wanted to join in. We didn't have time but next week we'll revisit the story with new actors. And I loved it too as everyone, irrespective of their ability, was able to join in.
I made some simple worksheets to accompany the story:
just pictures (line drawings) el pequeño petirrojo pix only
pictures (line drawings) with names in Spanish  el pequeño petirrojo
pictures (line drawings) with a sentence saying what colour vest each animal is wearing el pequeño petirrojo sentence colour
colour sentences to label the colouring sheet labels el pequeño petirrojo
And here's the Powerpoint. El pequeño petirrojo final
You can also find it on Slideshare where it's been viewed 2,670 times! (There's a French version too!)
I'm looking forward to sharing it with Year 2 at WCPS next week, and rerunning it with Y3 at WPS on Wednesday morning.