BBC Primary 'goodies'
October 30, 2014
I'm making a list of useful links that parents might use with their children to practice and reinforce their Spanish, and was struck by how many 'goodies' there are provided by the BBC. So I thought I'd share! NB I've focussed on Spanish but they all come in a variety of languages – see individual sections)
1. The Lingo Show

http://www.bbc.co.uk/cbeebies/lingo-show/
For younger learners (preschool onwards), The Lingo Show started out as a website featuring 'language bugs' who teach Lingo a few words in their language. As it was so popular, it became a TV series with episodes featuring  Jargonaise (French), Wèi (Mandarin) and Queso who teaches Spanish, and then a second series featuring the German, Welsh and Urdu bugs was made and broadcast in May 2013.
The website has fun activities as well as links to songs that feature.  Current languages include Mandarin Chinese, Russian, Spanish, German, Sinhala, French, Welsh, English, Italian, Urdu.
Here's an example of a song featuring Queso from Youtube, and the link to a counting song
2. BBC Primary Languages website

http://www.bbc.co.uk/schools/primarylanguages/spanish/
The 'old' Primary Languages website with 'animales animados' and Jhonny (sic) and co was great (and you can still access the archived version minus games here) but I was really excited to be involved in 'revamping' the site and rebranding it. It was developed when languages were to be compulsory and the KS2 Framework was THE bible of primary language learning, but it still stands in my opinion. This site was written to be accessible to KS2 pupils and is organized in topics. It includes:
vocabulary with sound files to help pronunciation;
interesting tips and facts about Spanish/French/Mandarin;
vocabulary games;
videos;
songs;
links to other helpful resources
There were limitations to the things that could be done e.g. interactivity, 'free' writing, games beyond vocabulary recognition level  etc. And I sometimes wonder what happened to other ideas and resources that I saw and wrote that have never appeared on the site – including sentence building games, lesson plans. worksheets  and notes for parents.
I've used the site with Y2 recently and they love the songs – they listen as they work and have started singing along. Sometimes they want to see the words and other times they want to watch without. The tunes are excellent – the composer did a good job of making the words fit in English Spanish French and Mandarin to the same tune!
I've signposted it to my colleagues as well as a way that they can 'do their bit' to reinforce Spanish learning; non-threatening as it's all there for them.
3. Bitesize (now the home of Learning Zone)

The 'repository' of all the BBC videos used to be the Learning Zone Class clips, but they have moved to Bitesize (actually since I started writing this post!) The Learning Zone is still there in archive form and still works; it just won't be updated. If you scroll down to Spanish in the Primary section, there are lots of clips of programmes on a variety of subjects: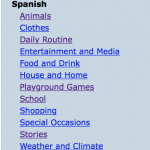 However, these videos – and others – are now listed on BBC Bitesize. There are categories for Spanish according to the 'Key Stage' system:
KS1 Spanish http://www.bbc.co.uk/education/subjects/zhyb4wx
KS2 Spanish http://www.bbc.co.uk/education/subjects/zxsvr82 
but also for Scotland.
second level (9-12 year olds) Spanish http://www.bbc.co.uk/education/subjects/z72mn39 
(NB there are other languages too  in all the above sections! French, German, Italian, Mandarin)
These two clips come under KS2 School and are from a series called Adventures Abroad; a playground game called Abuelita ¿Qué hora es? that I've played with classes, and a programme about primary school routine in Spain that I know has been used and enjoyed by others who found Papo the parrot particularly amusing.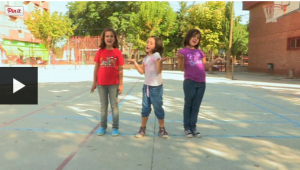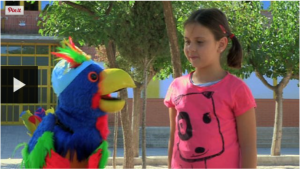 The Stories poems and songs section is particularly interesting as it includes lots of traditional tales such as The Town Mouse and the Country Mouse, The Sun and the Wind and Frau Holle as well as traditional songs like Old Macdonald and new ones like this one about Don Quijote!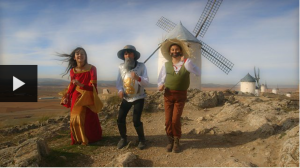 And that brings me on to…
4. Virtually there
http://www.bbc.co.uk/programmes/b03yzd0d/clips
This is a series of programmes in which a child, Ashleigh, is helped with her Spanish by friends in Spain via video conferencing. It also includes some songs and cultural information. (Also in French and German)
Here's the trailer…
and here are the episodes: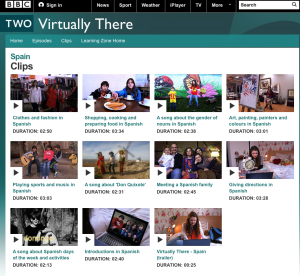 Something I've noticed is that the clips all have a QR code option for sharing which I like! That means that I can make a display of all the QR codes and then learners can access them whenever they wish (as long as they have an iPad or mobile device!); for example, as an extension/further learning for early finishers.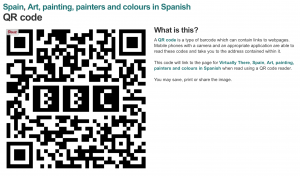 I really like Virtually there. Ashleigh isn't a KS1 child; I'd say she's nearly secondary age so it would appeal to older KS2 learners and also KS3 beginners. I also like the mix of 'live' episodes and songs; the gender song is one of my favourites.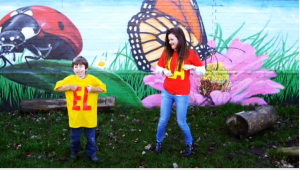 So, there's a round up of BBC online 'stuff' for primary learners. Hope it's helpful!