Seasonal poems
June 26, 2014
Having worked on adapting a verse of La Primavera by Antonio Machado last week (see here and here for previous posts about this) , Year 5 were set a new poetic challenge this week.
Whilst I was out of action with my broken ankle, some students from BCU taught my Y5 classes using the QCA SoW unit Las cuatro estaciones as their starting point. They taught about the weather, the months of the year and the seasons, and judging by the recap lesson we had, they were successful in their aim!
This week we reviewed the seasons and thought about how we might write simple poems about them. I suggested we thought of colours as everyone was familiar with at least 5 colours that they could match to a season. I  introduced other adjectives, including reminding them of ones we had used in connection to music (Autumn term) and the planets (Spring term)
I modelled a simple structure, saying we were aiming for something like a Haiku not a sonnet; about half of them understood what I meant!
La primavera es verde y amarilla.
La primavera es bonito y alegre.
Me gusta la primavera.
Having given a sheet with some adjectives on it (including some unsuitable ones for this task like alto and bajo) and access to dictionaries, off they went.
And I was really pleased with some of the results.
Amelia has missed most Spanish lessons since Christmas as she has spent Tuesday afternoons at a local secondary school doing some G&T work.  Today she wrote the poem below in 10 minutes.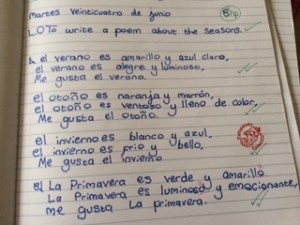 And these children impressed too, especially this one from Sam who finds Spanish tricky at times.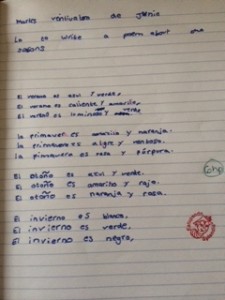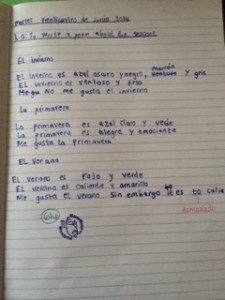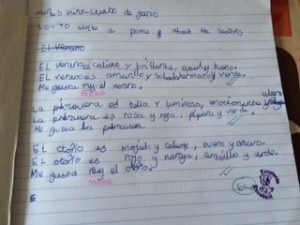 They are simple, yes. But they demonstrate to varying extents that they can
write at varying length, for different purposes and audiences, using the variety of grammatical structure that they have learnt
broaden their vocabulary and develop their ability to understand new words that are introduced into familiar written material, including through using a dictionary
write phrases from memory, and adapt these to create new sentences, to express ideas clearly
describe people, places, things and actions … and in writing       (Languages Programmes of Study: Key Stage 2)
Looking forward to next week when we will continue in this vein and present our poems using technology!