Books and bloomers
April 27, 2014
Mr S has been to Mexico this week and returned bearing gifts. I suspect there will be a few posts coming up in the near future about these 'gifts'  and here's the first!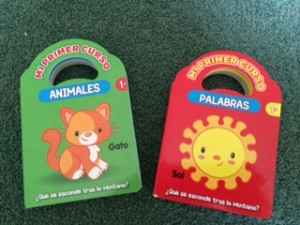 I asked Mr S, if he had time, to bring me back children's books that are simple and repetitive, and that's what these two little books are.
Very simple and designed for very young learners, each 2 page spread introduces two related vocabulary items and then poses a question that is answered by lifting a flap. Taking the example of Animales, some of the questions have obvious answers like ¿Qué ha puesto la gallina? and ¿De qué color es la mariposa? (no flap for that one) whilst other have a range of possible answers with the correct one revealed under the flap like ¿Quién monta a al caballo? but there's no reason why you couldn't give silly answers to any of the questions;
¿Qué come el monito? Un cocodrilo
¿Qué ha puesto la gallina? Un dragón
The other little book is called Palabras and has more 'random' vocabulary, presented in pairs on a double spread. Once more there's a question and a flap that reveals the answer, and some questions are more open ended than others.
The question on the right made me giggle! ¿Qué lleva la muñeca debajo del vestido? (What is the doll wearing under her dress?) It reminded me of De quelle couleur est ta culotte?
And then I lifted the flap.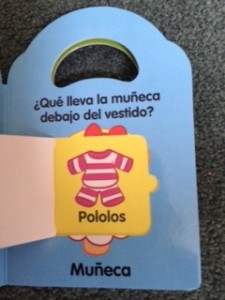 Well there's a word I hadn't heard before. So I looked it up. Apparently pololos are bloomers. But that's not all as you can see here.  In Chile, un pololo is a 'novio' or boyfriend and also, according to this Etimología de Pololo, an insect or a short job. And Reverso says
   pololo  (Chile)  
a
sm/f

  
*

  
boyfriend/girlfriend

  
 

→ 

  

polola

  
4
(=pretendiente)

  
(persistent) suitor
So, dolly might have all sorts of things hidden under that pretty spotty frock 😉
And of course, la muñeca also mean wrist…
Words are fun, aren't they?
PS these are 'pololos' too