ALL Joined Up!
March 11, 2014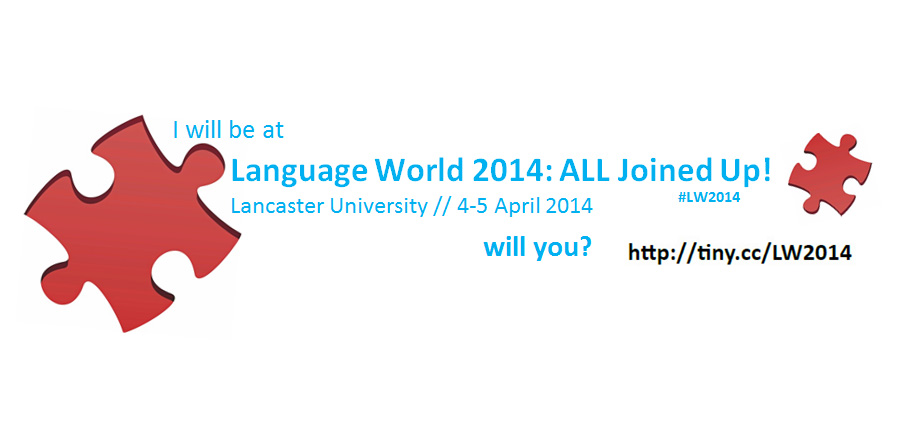 Not long now! Have you booked? Lots to do before then but already looking forward to it!
Language World 2014 at the University of Lancaster from 4-5 April has 44 sessions over two days, with a strong focus on the New Curriculum andworking together for the best in languages education.  Our theme is year is ALL Joined Up!

It's the ideal event for you, whether you're an experienced teacher of languages or coming new to the subject for the first time as part of the New Curriculum at primary level.

You can see the full  Friday programme here. And Saturday here.  Simply click on the speaker name to see the session description.

Inspiring plenaries from Rachel Hawkes, Judith Woodfield and Steven Fawkes

Major talks on the challenges and opportunities in the new curriculum from Bernardette Holmes, Liz Black, Marian Carty and a reflection on the past from Nicola McLelland

Workshops full of new ideas to take away and use next day – with too many well-known speakers to name here!  Check out the programme

Up-to-date information from Ofsted and the launch of the results of the latest Language Trends survey

Question Time with actor Larry Lamb in the Chair and a panel from the worlds of education, business and media

Find out how research can inform and support developments in languages education from Ann Swarbrick, Kati Szeless and others

Get to know more about CLIL with Judith Woodfield (plenary), Pippa Jacobs & Sue Simpson (workshop), Kim Bower (major talk), Angela Molinari (workshop) and others

Primary and secondary Show and Tell sessions

Get ALL Joined Up through national initiatives like Routes into Languages and Speak to the Future

Big exhibition of resources and opportunities for you and your pupils

Your chance to network with teachers from around the country

Join us for one day or two!  From just £120 a day –full details of how to book see here or call us on 0116 229 7600.