A beginner's guide to iPads in the Primary Language classroom #ililc4
February 15, 2014
My first session at #ililc4 was aimed at beginner users of iPads in the Primary classroom.
My presentation is below, and under that I'll briefly recap the session.
You can find helpful links, ideas and tutorials at bit.ly/lisiboipad
After looking at some of the pedagogy behind using iPads in the classroom, we watched a video from Cedars School that outlined some of the reasons that such technology is so helpful. And then it was on to the iPad itself.
We talked about how to take screen shots (hold down on/off switch and home key) how to add websites to your iPad as a bookmark and also with an icon so they appear as an app (use 'box with arrow coming out of it' icon and Add to home screen) as well as how to add images to the camera roll (hold finger and Save image) as well as copy and paste images and text (hold finger and Copy; hold finger where you wish to put it and Paste) I also explained how to add accents to letters by holding the letter until a popup menu of accented letters appear and then sliding to the option you want, and how to add different keyboards in General – International – Keyboards – add new keyboard then scroll between them using the globe icon next to the space bar when typing thus avoiding auto correction of your Spanish into English for example.
I shared how you might project the iPad in the classroom using Apple TV, Reflector / AirServer or a VGA/HDMI adaptor, and we discussed the advantages/disadvantages of each (I demonstrated the importance of having two options as Reflector wasn't working so my adaptor was essential!) I also explained a variety of ways to get things off your iPad using email, Dropbox and Foldr for example. We might also have discussed Showbie but it was for beginners!
Then we talked apps – we looked at some specific language apps like Mindsnacks French for French vocabulary learning,  Lectura Mágica for phonics in Spanish and Wortzauberer for German spelling/phonics. There are lists on the wikispace of specific language apps.
I made my love of generic apps very clear however as they are so much more versatile and can be used across the curriculum so it's easier to justify any cost.
We looked at Popplet as a mind mapping tool, useful for vocabulary lists, sharing plans for units, mapping ideas, planning work. We discussed how you can add images from the camera roll or take a picture as well as text, and how to change the colour of the bubbles, and then how to export it as a jpg or pdf via email or to the camera roll as a jpg.
Then we explored Tellagami (which was behaving contrary to reports that morning and unlike Popplet which kept crashing!) an app that allows you to make an talking avatar using text to speech (not so good for languages other than English) or by making up a recording of up to 30 seconds. I explained how I use it in the classroom to record pupils speaking as it allows me to record their task and review it later, and is also very motivating for them, allowing them to rehearse and refine their speaking. I also warned that it is quite addictive making Tellagami avatars so to make sure that the objective of the exercise is clear to learners – to speak Spanish (in my case) not to make a beautiful avatar! We also  had a quick look at Morfo Booth, another tool that encourages speaking, and I demonstrated how you could animate a picture – the result was rather scary I have to say!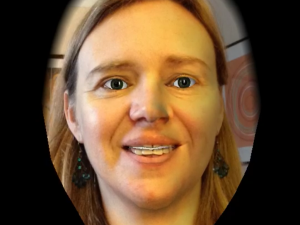 Then I shared my favourite app, BookCreator. So versatile and useful, not just for writing stories but for all kinds of writing – making speaking word books, dictionaries and glossaries, information books, stories, explanations and so on. The ability to add text, sound, videos (directly from the camera roll), hyperlinks to URLs and also the ability to merge books to make a collaborative book makes it a really powerful tool, not just for language learning. And in BookCreator version 3 you can even draw and write on your book using the pen tool! I've talked about how I've used this app with Year 3 to write their own ebooks previously, and I'll be sharing more at Language World in April in Lancaster in a session with Joe Dale and Helen Bates. Books can be shared in a  variety of ways and can be easily shared as a PDF. However, this does not allow for audio/video to function and you need either an i-device or Chrome and the app Readium to read the books as fully functional eBooks at present.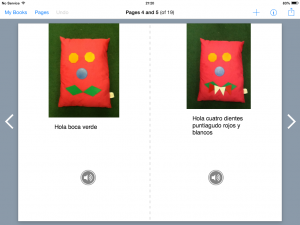 And that was it as it was time for tea!
I also wanted to share Pic Collage, Puppet Pals HD and Sock puppets but we ran out of time so here are a few notes!
I've used Pic Collage a lot recently to encourage learners to write in Spanish; some of my pupils have only had 6 weeks of Spanish so far and their repertoire to write is limited. They used PicCollage to make a poster using what they knew (and bits that they'd found in the front of their exercise books – impressed me!) They enjoyed it and felt confident, and they were proud to see their work projected onto the IWB.
Puppet Pals HD (with Director's Pass) and are great digital storytelling apps, taking my use of puppets to a different level. Both allows you to make 'puppet shows', SockPuppets with socks and Puppet Pals HD with characters within the app.  In Puppet Pals you can also add your own characters from images from camera roll, cutting them out as well as backgrounds. In SockPuppets you can change your voice, higher or lower according to the level you set for each puppet.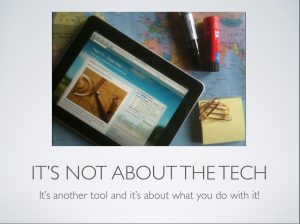 And the final slide said – it's not the technology that's important, it's what you do with it as this video demonstrates!