Are you coming to #ililc4?
January 18, 2014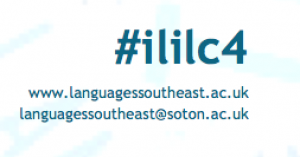 Now in its fourth year, ILILC (ICT Links into Languages Conference) takes place at University of Southampton on Saturday 8th and Sunday 9th February. Offering something for language teachers of all ages (and language enthusiasts too!) it is not to be missed. So much so that for the last two years I've flown in from Switzerland to attend.
The theme this year is Putting the Pedagogy in the Technology – very important message that I've been banging on about for ages, inspired many years ago by Ewan McIntosh saying "It's not about the tech but about the teach."
The two keynote speakers, Joe Dale and Clare Seccombe,  are always worth a listen and the list of speakers is impressive:
Amanda Salt – Chris Fuller – Davis Riley – Dominic McGladdery – Dominic Traynor – Eleanor Abrahams – Garry Mills – Isabelle Jones – James Gardner – Jo Rhys-Jones – Lisa Stevens – Rachel Smith – Sadie McLachlan – Samantha Broom – Suzi Bewell – Tom Hockaday
The programme will be on the Languages South East website very soon but I know that people are talking about all sorts of things including SOLO, flipped learning, mini books, mobile learning, apps, Flubaroo, Triptico and much much more!
As you may have noticed from the above, I shall be speaking.
My sessions are entitled A beginner's guide to using iPads in the Primary classroom and Something old, something new… 
Shall I reveal more? Perhaps in another post…
Can I encourage you, if you possibly can, to join us in Southampton for what is always a brilliant conference at which I learn tons, have a shedload of fun and make new friends that support me throughout the year.
There's also a Show and Tell on the Saturday night at which people can share their ideas, activities, games and songs in an informal manner so if you're local and can't make it for the whole conference, pop along! Sign up on the wikispace!
Find out more here