Favourite books for Primary Language Learning
August 16, 2013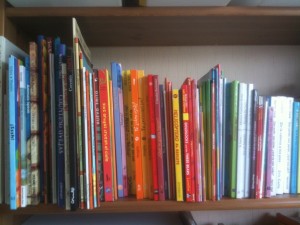 As I am virtually housebound (that's 'nearly completely' not  'housebound in a virtual world'!) I'm looking for things to occupy my time so decided embark on a blog series. I then concluded that I could kill two birds with one stone by cataloguing my books (especially as I'm being reunited with many of them out of storage!) and blogging about them. And I woke this morning to see that Clare has blogged about her favourite French and Spanish books so it seems that now is a good time to share!
So. over the next few weeks, I'll share some of my favourite story books and try to share how I use them or might use them in the classroom. It'll take that long as a)I have lots of books b)some are still in storage.
First post is coming right up after this one!