Favourite books for PLL – De quelle couleur est ta culotte?
August 16, 2013
*This is one of a series of posts about some of my favourite story books for Primary Language Learning*
When I first started teaching Primary languages, I went on a course run by LFEE in Salignac for French teachers (thoroughly recommend it – I worked hard but had the time of my life and rediscovered a love of French that I'd lost when I was made to start from scratch at secondary school.)  During my time there we went on a trip to Souillac and several of us spent a while in a bookshop looking for suitable books to use in our classrooms. And this was the one we all loved.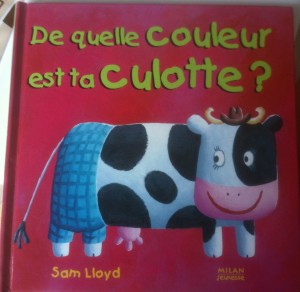 De quelle couleur est ta culotte? is a lift the flap book that poses the title question to a series of animals.
Each animal has a name that rhymes with its species e.g Lucie le Brebis, Mumu la Tortue and Émile le Crocodile …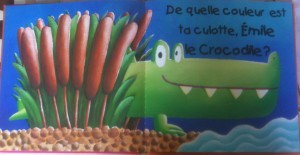 and you lift the flap to find the answer: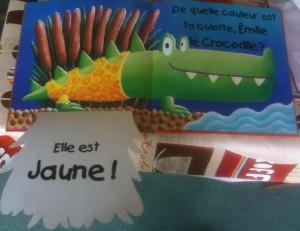 At the end there's a big surprise as Armand l'elephant is a little forgetful…
I've used this story with EYFS – and younger in fact. They love the animals, recalling their names, and the colour of their pants. And everyone giggles hysterically in mock horror as the surprise is revealed – because we are, of course, surprised every time we read it ;o) I ask questions e.g. Valentine a la culotte rouge ou bleu?   Qui a la culotte rose? De quelle couleur est la culotte de Aimee? offering choices if needed and then we read it again with choral responses as we lift the flaps; sometimes a particularly confident child will want to ask the question too although it's more usual to just say the name of the animal. When I shared it in Reception, we drew a washing line of pants and coloured them in for the animals. I'd probably make it into a game now, either on the IWB with a race to match the animals and pants, or as a team game with images of the animals and coloured underwear. And I'd also look to make the story our own, perhaps not about pants this time but about another item of clothing: De quelle couleur sont tes chaussettes? perhaps or a teddy bear: De quelle couleur est ton nounours? or even change it a little and ask Comment est ton chapeau? which could be answered with adjectives other than colour.
I used to teach Kindergarten at the (Catholic!) school with children from 18 months to 3 years, and was sharing this book with them when an inspector arrived. My momentary fear that the inspector wouldn't share my love of the book, and that of the Kindergarten head who had a great sense of humour, was unfounded as she was giggling along with all the children and said she thoroughly enjoyed the French lesson!
I've found a sound file of someone reading the story too! De quelle couleur est ta culotte? sound file