*This is one of a series of posts about some of my favourite story books for Primary Language Learning*
When I was in Barcelona a couple of years ago, I found a couple of books by Imapla that I loved, both very simple but also quirky.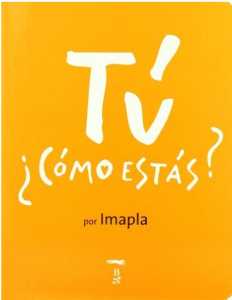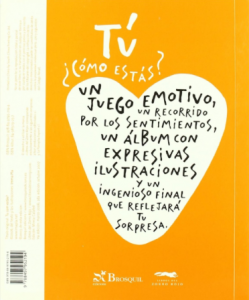 Tu ¿cómo estás? is one of them, a large board book about how people are feeling, using ESTAR. Each double page has just three words – name + está + 'emotion' adjective and a  drawing of the child in question. The quirky drawings  show the emotion but so does the font in which the emotion is written. And the final page asks the question of the reader with a mirror.
I love reading it as a bit of over acting is 'required', and learners love joining in. After the first reading, I reread it substituting the names in the book with those of members of the class; as a child is named they get to act the emotion or feeling. On the final page, I ask individuals to respond by choosing an emotion from the story. I model the first person 'Estoy…' with my response but don't necessarily expect it to be used in responses. We might then add more emotion words to give more choice, then make our own versions. We might make a storyboard with 6 boxes, the final being the question. Or a mini book from a single sheet of paper. We might take photographs of learners demonstrating emotions and make a big book with the photographs. Or we might use BookCreator app on the iPad to make an ebook with photographs or drawings, text and embed audio as well.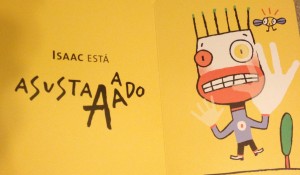 This book is a great one for linking with PSHE about feelings – many classes have a board on which pupils indicate how they're feeling at certain times of the day by moving their name to an emoticon, and having read this book, this activity could be done in Spanish too. And another aspect of the book, the use of calligrams (writing the word to show meaning), links well to word processing and ICT, or alternatively art if you do it by hand!  Nervioso might be quite straightforward, but how might you show enfermo or celoso? Would you use colour, shape, texture?
So, lots of ideas from a very short, simple book!
20/08/13 – I've just recalled this Storybird that I wrote that. although not all the feelings go with ESTAR, fits well with this story.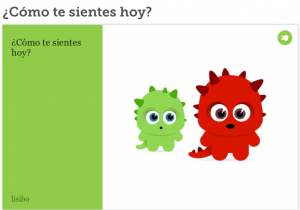 In this Youtube video Imapla shares another of her books – I haven't found that one in print. Yet! But I'd like to use it as it challenges the colours we normally associate with objects like the sun and the sky and gives colours to things like the wind and holes.
I'll share the other book tomorrow in my next post.