Night Zookeeper – Teleporting Torch app
June 6, 2013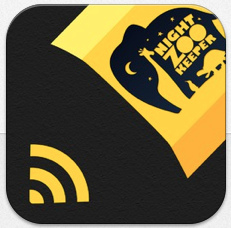 Just before Christmas I wrote about Night Zookeeper's Drawing Torch app , a brilliant app that encourages users to use their imagination and creativity to undertake missions, drawing with their magic torch.
I was therefore very excited this week to hear that Night Zookeeper has launched a new app – Teleporting Torch.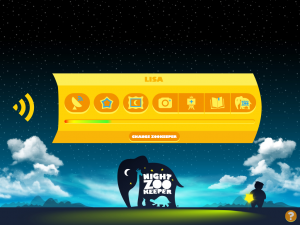 The premise is similar – here's the blurb!
Night Zookeeper Teleporting Torch inspires you to draw pictures and write stories about magical animals!
Do you think you could become a Night Zookeeper? Enter a world of Spying Giraffes, Time Travelling Elephants and scary Fear Monsters.
On your journey you will take on creative drawing missions to protect the zoo from monsters and care for thousands of magical animals. Can you turn one of your friends or family into a strange animal? Could you paint the ocean, if a monster has stolen the colour blue? It's time find out!
Some of the features are similar to the Drawing Torch e.g. you still ROAR! to unlock the Night Zookeeper story, and the drawing panel is still as cool! Where it differs from the Drawing Torch is that missions are delivered on a daily basis "like a never ending activity book" rather en bloc and you can now create your own missions.
Here's a video explaining it.
The ability to create your own missions is particularly exciting from my point of view. In the original post, I documented my conversation with @nightzookeeper about the possibility of having the missions in other languages.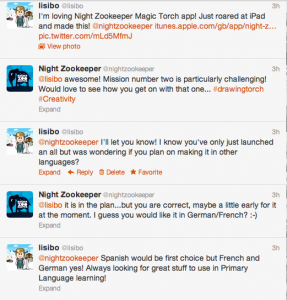 Now you can write your own missions on www.nightzookeeper.com, there's nothing to stop you writing them in other languages. Accents work (always a worry!) and it's really easy. You can use existing templates or write your own.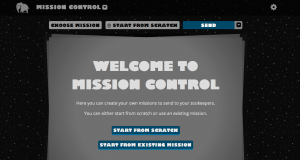 I've written two in Spanish so far. I used the existing ideas and templates, simplifying the language a little and translating them. And i've only scrolled down a little bit – there are many more ideas that I have yet to read, and I'm sure I'll be inventing my own ideas soon! So, there's a food based mission, and a clothing based mission. Once learners have completed the mission, we could share them as a class with learners presenting their creations and then discussing them as a class.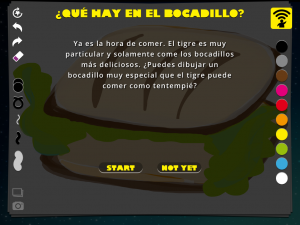 | | |
| --- | --- |
| | |
Another thing I love is that you can add as many zookeepers as you wish to each iPad meaning that I can do the challenges and so can my children; that's great in the context of a class where learners are sharing iPads and can simply change the zookeeper to their identity and complete the challenge before passing on to another learner who can complete the same challenge or another!  You can also decide who will receive each challenge. So it's easy to send different challenges to individuals, tailored to their interest, age or ability.
All pictures are saved in the Night gallery as well as on the iPad – here's my gallery!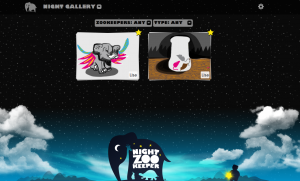 The app costs £1.99 but I think that this is worth it as it is now so much more versatile and customisable. And it can be used across the curriculum, not just in literacy! Once I've played some more, I'll no doubt be back with more ideas!