Inspired by ideas from Jan Lewandowski and Sandra Longden on the CFBT Primary forum for snow related songs, I was reminded of a previous post in which I shared a song about Un muñeco de nieve that I had subtitled using Amara (previously called Universal Subtitles.)
Below is the unsubtitled version – subtitled version is available here (can't embed it on my WP blog)
Then there's this simple song to the tune of Frosty the Snowman – Mi hombre de nieve
I particularly like this song too about winter becoming spring – Es invierno
La letra –
ES INVIERNO Y HACE FRÍO.
EN INVIERNO, NO CALIENTA EL SOL.
ES INVIERNO Y CAE LA LLUVIA
Y EL PAISAJE PIERDE SU COLOR.
EL INVIERNO
EMPIEZA EN DICIEMBRE
EN MARZO SE TIENE QUE IR.
EL SOL CALIENTA,
LAS FLORES YA SALEN.
ES PRIMAVERA POR FIN.
And finally, here's a simple story about a sad snowman- El Muñeco de Nieve está triste.
I also wrote a post back in 2008 about using The Snowman by Raymond Briggs using resources from HGFL.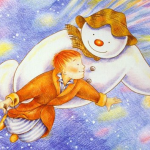 Finally, it reminded me of this post from way back about snow!