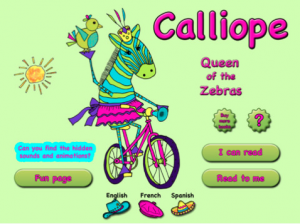 Just found this lovely story app via my Google Reader. Called Calliope, Queen of the Zebras, it's a very simple story that you can read or have read to you. And it is written in English, Spanish and French – you change language by clicking on the cowboy hat, beret and sombrero so you can read each page in a different language if you want. The book also has hidden animations and sounds, and a fun page on which you can dress Calliope. And it's a lovely story too –
"I can sing or swing,
I can be or do anything."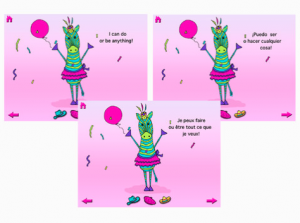 There are another two story apps from StoryBook Express – Dott Meets Watt and If I only had wings, both of which are in English Spanish and Vietnamese, and come with a parent's guide of questions to get your child talking.
I'll be looking out for more in the series too…