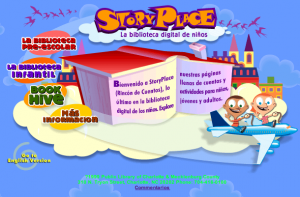 Just rediscovered a lovely website for stories in Spanish. La Biblioteca Infantil and La Biblioteca Pre-Escolar are great for native speakers and young learners alike with stories on a variety of themes complete with accompanying activities.
For example, La Pelota Dorada in La Biblioteca Infantil is a story based on a fairytale (won't give away which one!) in which you can name the princess, the prince and also the hero which you choose from a duck, a beaver or a tortoise. The story has passages of text to read and sections of dialogue that appear in speech bubbles and are read to you.
Accompanying the story is an activity – in this case a 'Find the difference' – and also a list of books on a similar theme.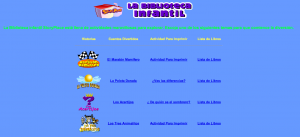 In La Biblioteca Pre-Escolar the stories are more simple and are all read aloud to the reader. In El canto del corral features a little girl who wants to sing but everyone is too busy until he goes into the farmyard. To accompnay the story there is an online activity – choosing musical instruments – and a craft activity as well as a list of books ona similar theme.
There aren't a huge number of stories, however they are on a variety of themes that are suitable for integration into the primary curriculum, particularly in the  EYFS / PSHE areas.
The site also exists in English so good for comparing language, and also for the less confident Spanish speaker who wants to check out the meaning of the story!